When the Scarsdale Volunteer Ambulance Corps receives a call for help, we respond. Our job is to bring many of the services of a hospital emergency room right to the scene of a call, and that is what we train for every day. Each year, SVAC handles more calls than before, with no direct financial support from the village or county, relying only on fees paid for services and on the generous contributions from townspeople, like you.
Without the community's support, our village would have to rely on a commercial ambulance service. While these commercial services are capable of providing excellent care, they could not afford to keep four Advanced Life Support ambulances dedicated to Scarsdale and the surrounding community. To assure that our community has the highest level of care available, SVAC has a paid Paramedic every minute of every day. With our Paramedics, volunteer Emergency Medical Technicians, and support crew, our residents can be confident that help will arrive quickly.
Even though our organization is comprised of primarily volunteers, we do have significant operating expenses. The cost of salaries, insurance, vehicle maintenance, training, and community outreach are significant. We need your support!
You Rely on Us, We Rely on You!
We're proud to support our community, one that understands the benefit of a well trained and properly supplied volunteer non-profit ambulance service corps. Every EMT and Paramedic undergoes rigorous retraining throughout the year to ensure that the latest techniques and methods are well understoof and applied. Your volunteers donate their own time attending training courses and responding to daily emergencies. They do their part and now it us up to you to provide the funding to make their job possible.
Our headquarters building and training facility allows SVAC to reach directly to the community. SVAC volunteers conduct CPR classes throughout the year. Last year, over 100 members from our surrounding area also received their CPR certification. The SVAC training facility is also used to train many new Emergency Medical Technicians ever year. In addition to training, the SVAC facility has been used to provide COVID-19 antigen and molecular testing and numerous vaccination clinics. Help us keep community outreach at the forefront of our mission.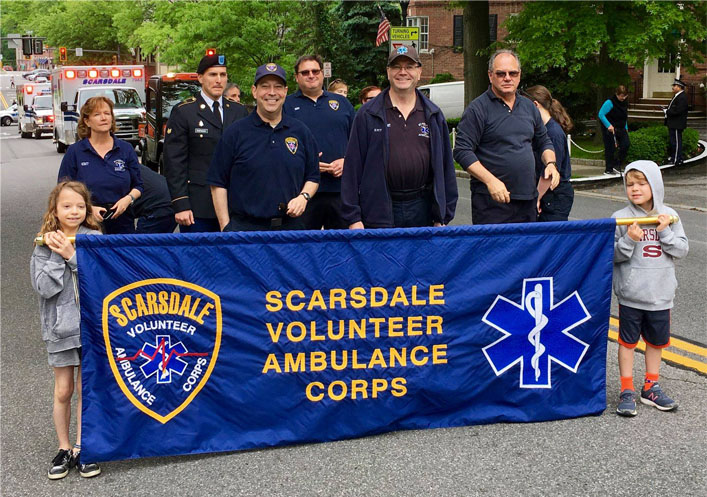 Donate Online
Donating online is convenient, safe and secure. You can pay via PayPal funds, or from a credit or debit card. You can even making an automatic recurring donation.
Donate By Mail
We are happy to receive checks securely through our post office box. A donation receipt will be sent to you.

SVAC
P.O. Box 92
Scarsdale, NY 10583
Donate Stocks
Do you have stock that has increased in value since its purchase? If you have owned the stock for at least one year, there is a unique opportunity for philanthropy.
When you donate securities to the Scarsdale Volunteer Ambulance Corps, you receive the same income tax savings (if you itemize) as if you wrote SVAC a check directly, but with the added benefit of eliminating capital gains tax on the transfer.
For example, a stock purchased more than a year ago for $10,000, which has appreciated to $25,000 today, would normally trigger $2,250 in capital gains tax at 15% (or $3,000 at 20%). If you were to donate the stock to SVAC instead, it would generate a $25,000 income tax charitable donation and no capital gains tax!
Transfer Instructions
For gifts of security to SVAC, advise your financial advisor to deliver by DTC to:

DTC# 0226
Account Number: RJL-018571
Account Title: Scarsdale Volunteer Ambulance Corps Inc
Institution Name: National Financial Services
SVAC Tax ID: 23-7066618